Creative B&W Photo Artistry
Black and White photography just got a lot more exciting . . .
In fact, it got a lot more artistic.
And having passing the 11,500-student mark in my Photoshop Artistry course, I think it's clear we have a LOT of photographers interested in creating more artistic compositions.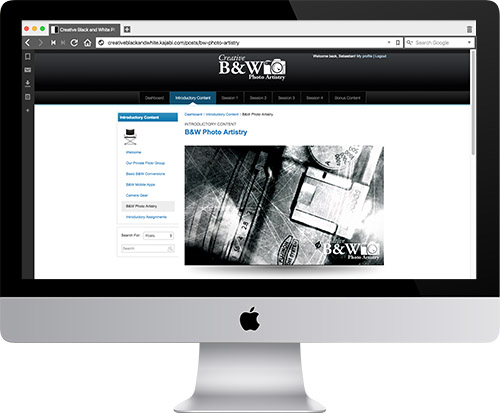 Creative Black & White Photo Artistry is going to radically expand your imaginative skills as photographer, but more importantly, it is going to train you to composite extraordinary works of photo art unlike anything you've created before. Partly because of all the new techniques you will learn, and partly because it will inspire you to take some chances and try new things.
You are going to learn how to capture more creative images, learn how to edit them to perfection, push them further through artistic treatments and advanced compositional methods, and then polish them with pro-level post-production techniques.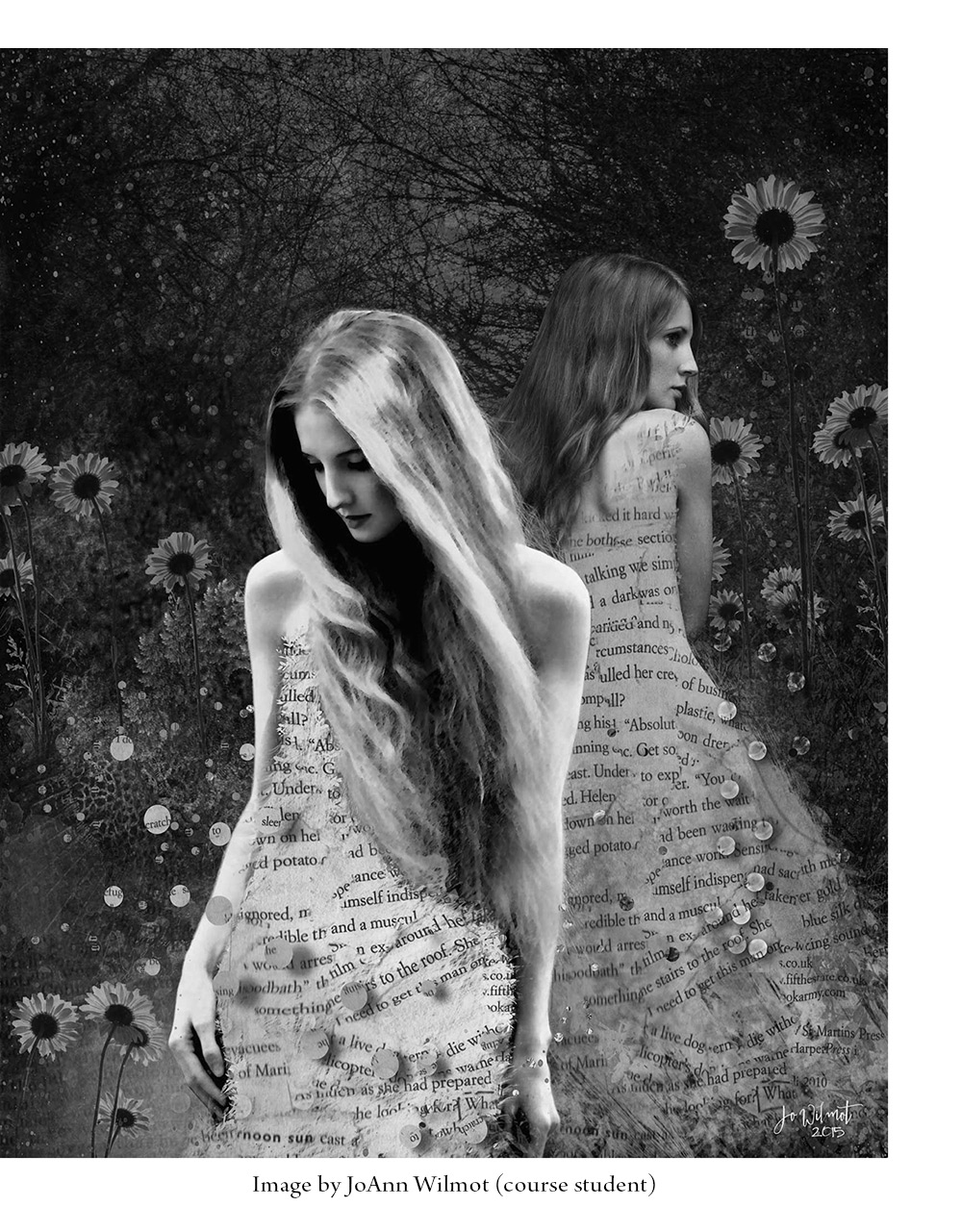 Most of the training takes place in Lightroom and Photoshop (or Adobe Elements), combined with Auto FX Mystical Black and White (which you get for FREE as a bonus!), but you can employ any of these, along with any of several other excellent programs we will be training you on as well: Adobe Camera Raw, Photomatix Pro 5, NIK Silver Efex Pro 2, Topaz B&W, and OnOne Perfect Black & White.
Each session will consist of an array of training videos, cheat sheets, downloads, and assignments — all designed to ensure you get the most from this program.
And each Sunday during the course you will have a chance to see your own work brought into the discussion on our private Flickr group, while expanding your vision of what's possible from seeing the art of other photographers like you, all working through the same lessons, all around the world.
Never has there been a more comprehensive course on creating works of amazing artistry in black and white.
Have a look at everything you will get . . .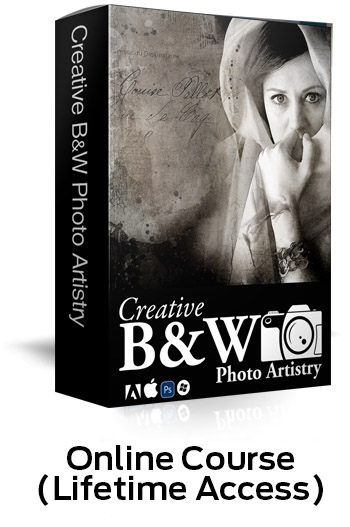 Creative B&W Photo Artistry
Online Training | Lifetime Access
Immediately on signing up, you receive full access to the Introductory Session and all Four Modules. You also get access to all of the bonus content, including the first two bonuses listed below worth a combined in $108 themselves. Originally intended to be about 20 videos in length, the course ended up growing to over 70 videos before it was finished.
Introductory Module
Learn to capture the most creative black and white photos of your life.
Learn to execute your initial black and white conversions.
Learn the best mobile apps for capturing images in black and white.
Learn the components that go into creating fantastic works of black and white photo artistry.
Learn to use the bonus software and presets in creating stunning conversions.
And get signed up for our Private Flickr Group.
Module 1
Learn to execute pro-quality black and white conversions.
Learn to edit your images like a pro (across a variety of programs).
Learn to dodge and burn your black and white images like an expert.
Learn to employ gradient maps to craft exquisite duotone, tri-tone, and quad-tone images.
Learn to employ blend modes, adjustment layers, and layer masks.
Learn to achieve a wide range of artistic black and white treatments.
And follow this with our bonus session reviewing the work submitted to our private Flickr group ...
Module 2
Learn to execute even more elaborate black and white artistic treatments — with all 9 programs.
Learn to employ texture layers and artistic overlays.
Learn to introduce advanced lighting approaches to make your work more dramatic.
Learn to give your work a wide variety of artistic edges and finishing touches.
And follow this with our bonus session reviewing the work submitted to our private Flickr group ...
Module 3
Learn to create more elaborate effects, vintage looks, and film simulations.
Learn to create custom brushes to use on your layer masks (for artistic and painterly effects).
Learn pro-level techniques for creating sophisticated photo-composites.
Learn pro-level post-production techniques to polish your work and make it stand out.
And follow this with our bonus session reviewing the work submitted to our private Flickr group ...
Module 4
Learn how you can find your artistic voice and vision ...
Learn how to compile worldclass photo essays ...
Learn how to assemble your work into an online portfolio ...
Learn how to print and publish books of your black and white photo art ...
Learn how to promote yourself as a serious photo artist ...
And follow this once more with our bonus session reviewing the work submitted to our private Flickr group, answering any questions you send in, and setting the stage for you to then submit your best images for possible inclusion in our upcoming special Black & White edition of our magazine Living the Photo Artistic Life ...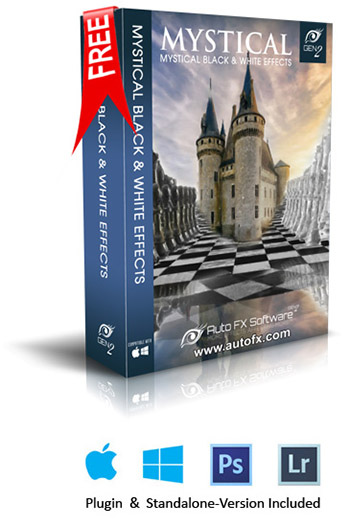 Bonus #1 — FREE (worth $87)
Free Copy of Auto FX Mystical Black and White Software
When you sign up for this course, you will get a fully-functional copy of Mystical Black and White by Auto FX. Part of their complete Mystical Suite, this one component is in itself worth $87, but you get it free, along with training in the course on exactly how to use it, either as a stand-alone program or as plug-in for use with Photoshop, Adobe Elements, or Lightroom.
This software makes creating artistic black and white conversions (or sepia or toned images) not only easy but a delight ... It allows you to craft your conversion with exquisite control; and whether you employ it separately or as just one step in your process, Mystical Black & White will transform the way you approach your black and white photography.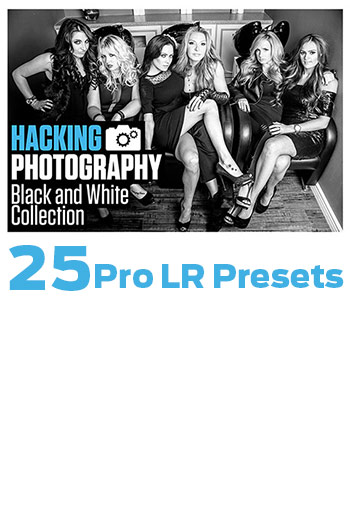 Bonus #2 — FREE (worth $49)
Free Set of 25 Pro-Designed Black & White Lightroom Presets
You are also going to get an amazing set of pro-caliber Lightroom presets designed by Mike Newton of Hacking Photography. We cover how to use these in the course, and they will immediately step up your black and white conversions to a whole new level, enabling you to quickly convert your images and achieve polished advanced effects that would normally require endless fiddling.
And as with the software above, you can either use these presets as a stand-alone one-stop solution, or you can use them as but one step in one of the more elaborate processes you learn in the course.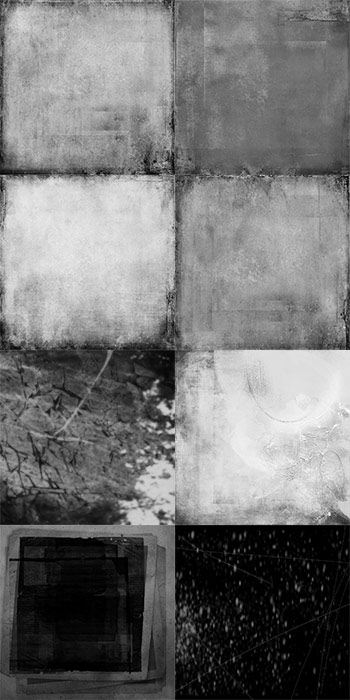 Bonus #3 — FREE (worth $297)
THIRTY Sets of Pro-Designed Bonus Content
To enhance your work and make it easy to produce pro-caliber results, you will receive THIRTY substantial sets of pro-designed high-res content with full commercial licensing ... which you can then employ, using the techniques you learn in the course, to achieve the most extraordinary advanced effects in your artwork.
You'll be receiving everything from a wide array of hand-crafted artistic textures and overlays and edge effects, to custom brushes, presets, and more ... All by elite designers like Cheryl Tarrant, Denise Love, Anna Aspnes, Foxeysquirrel, Ninka Studios, Designer Digitals, Caroline Julia Moore, David Combs, and others.
The value of this content can't be overstated. And not only in terms of what it can do for your work. Simply in putting together this course, no less than $2,000 will go into securing the licensing on the content ... which you'll receive free as bonuses accompanying each module.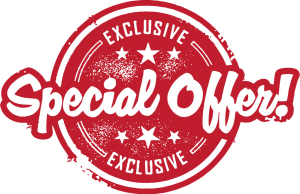 SIGN UP TODAY and JOIN OVER 3,000 STUDENTS ALREADY ENROLLED!
And even better: Sign up today and you get over $400 in added bonuses, not to mention access to our Flickr group, and an opportunity to get your work published in the upcoming black and white special edition of our magazine slated for September.
What makes this course unique ...
We will be covering creative photography skills ... and then move your images further with programs like Photoshop, Elements, and Lightroom ... with additional coverage of Silver Efex Pro 2, Auto FX Black and White (which you get free as a bonus!), Topaz B&W, Topaz Texture Effects, OnOne Perfect B&W, Photomatix Pro 5, Adobe Camera Raw, and more.
In this course you will learn to not only convert images to black and white but render advanced artistic treatments and emulations, composite like a pro digital artist, and create imaginative works that will set you apart as an artistic photographer.
Private Flickr Group
As part of our inaugural group, you will also get to join our private group on Flickr, where you can share your work with the other students and get feedback on your emerging portfolio.
Magazine Special Edition
You will even get to submit your best work for possible inclusion in special black & white edition of our magazine Living the Photo Artistic Life, slated for September 2016!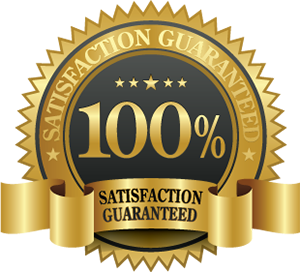 Try This Course at NO RISK!
You will have a full 30 days to try out the course and decide if you like it. If for any reason you decide it's not for you, you will get 100% of your money back. Just that simple. (And you can even keep all of the bonuses just for trying it out!)
Don't Miss Out on this Highly Anticipated
International Launch Event.
Get in today for only $157!
Simply click below and get lifetime access
(+ grab over $400 in free bonus content!)

And remember: You can try out the course at NO RISK,
protected by a 30-day 100% money-back guarantee.
What some of Sebastian's students are saying . . .
This experience has taken me to another level in my photography and my life!! You truly are the hardest working man I know. A true MENTOR. Steve M.
Thank you Sebastian, you've inspired me and enriched my life in so many ways! Barry R.
I am absolutely enthralled with your program. I've learned soooooo much. You are a fantastic teacher, very clear and knowledgeable on your subject and your voice is so perfect for hearing impaired older "students" of photography. Besides the material content, both quality and quantity, the ability to review and revisit any section many times makes your course so much superior to any course or workshop I've ever attended. K. Hutchings
Your teaching inspires and motivates so many, thank you for that from the bottom of my heart. S. Masterson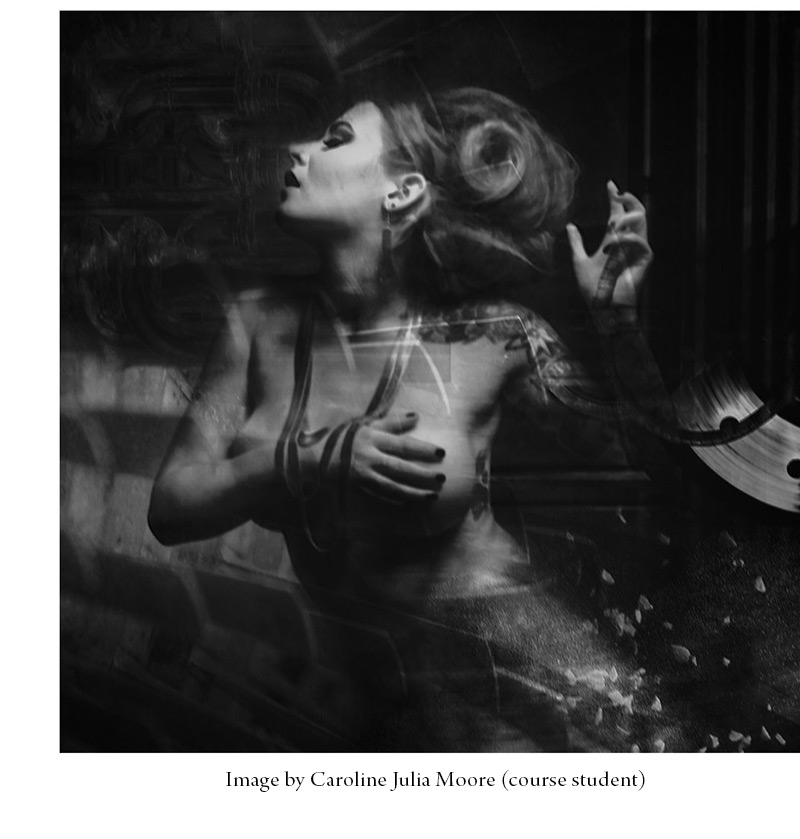 When you sign up for a course with Sebastian Michaels you are not merely signing up for self-study. You are part of something bigger: a community of digital artists who support, encourage and challenge one another. A tutor who puts his heart and soul into all that he teaches. You will learn invaluable techniques that will really give you an edge as a digital artist. What you also get though is a more holistic approach. There are detailed video tutorials, incredible content for you to use in your artwork, and core tuition on aspects such as how to promote yourself and how to lessen your self-doubt as an artist. Believe me, I am not exaggerating when I say that this course has been life changing for me. A year ago, I dared not even dream that I would be where I find myself today. My work and my confidence has improved so much and I have made friendships and collaborations that I know will be long lasting. Being part of this has, wholeheartedly, been the best creative decision I have made! C. J. Moore
I so admire not just your knowledge and expertise, I truly love your enthusiasm. It is such a motivator. I'm a little to old to climb trees any longer, but I would have if I could just because you made it sound like such fun. ... Thank you for all your hard work and a big hug to you. Karen P.
Your courses are excellent. I'm a retired dentist who has lectured internationally. I've yet to see ANY course, including those in my profession, organized so well. L. Barsh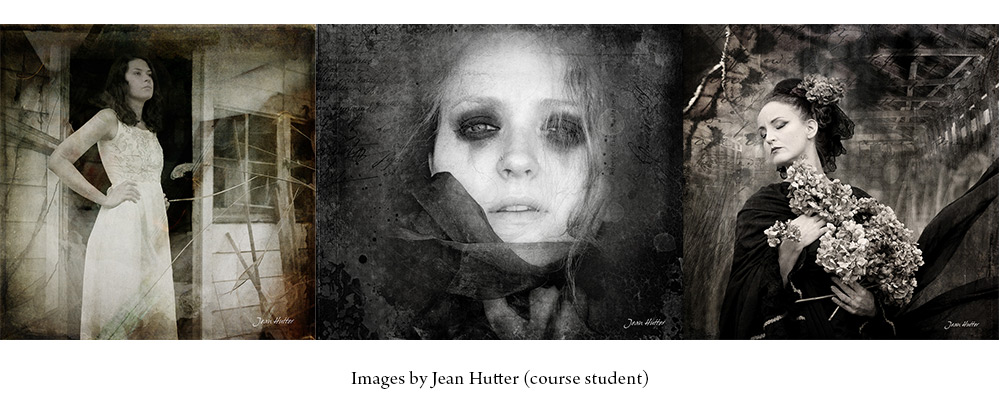 I enjoy tremendously your presentations, they are so extensive in what you present, clear and concise at the same time. I also appreciated very much you sharing with your students such a variety of bonus items and necessary and useful links to other web sites providing everything an aspiring artist can dream about. M. Grasley
Thank you for sharing your knowledge, expertise and enthusiasm with everyone. Your programs have enlightened me in Photoshop and the making of art where no other program has come close. You have a unique gift. Thank you for expanding my mind's eye. R. Madden
Your teaching is extraordinary and very much appreciated, it just keeps me so inspired. S. Schnur
I have taken many Photoshop courses and paid quite a bit for some of them, but none of them even came close to your courses. I feel like I now have a true mastery of Photoshop. I feel I can do anything my mind can imagine. The videos on layers and masks were incredible. I finally understand how they work and how I can apply them like a professional. ... I am so excited what I can do with these techniques. I know Sebastian put many hours of hard work into these videos and it shows. They are well thought out and easy to follow. Anyone who wants to actually learn what Photoshop can do needs to take this course. Thank you for doing such a great job. I will benefit from this for years to come. A. Martin
Creative Black & White Photo Artistry
with Sebastian Michaels
Internationally acclaimed Photoshop instructor Sebastian Michaels changed the landscape of artistic training from 2013 - 2015 with his preeminent course Photoshop Artistry: Fine Art Grunge, now with over 11,500 students in over 93 countries around the world. He has gone on to work with other Photoshop legends like Dave Cross, Phil Steele, Susan Tuttle, and others, and his advanced group ("Awake: Living the Photo Artistic Life") now boasts not only a popular monthly magazine but an ever-growing string of success stories as so many of the students have gone on to turn pro — exhibiting and selling their work, and seeing their art featured in publications around the world.